Suffolk County Council outlines £50m savings plan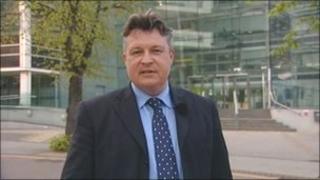 Adult social care services in Suffolk are facing a budget cut of £15m in the next round of county council savings.
The Conservative-run local authority said it had to save £50m over the next two years from its £1bn annual budget.
The proposals also include £15m in efficiency savings, £3.5m in children and young people's services and £2m in waste management.
There will be a series of public consultation events before the budget is set next February.
The council said it had to make the savings because it had had a 28% reduction in the amount of money it received from central government.
Councillor Mark Bee, leader of the council, said: "I want to see the creation of a budget that saves money on back office and bureaucracy, protects, as much as possible, front-line services and keeps council tax down.
Vulnerable services
"We're still at a very early stage and the proposals are very much open for public consultation, but I think a good start has been made under extremely difficult circumstances."
Other proposals by the council include reducing the cost of the back office by £6.5m, re-letting the highways management contract to save £2m, reducing senior management by £2m, reducing or rationalising office accommodation by £1.5m and savings from better purchasing of services of £1.5m.
Councillor Andrew Cann, the Liberal Democrats' finance spokesman, said: "I'm pleased to see the administration are proposing to cut the cloth of running the council services at the centre.
"These proposals, at first sight, appear substantial with several millions to be saved in the bureaucracy.
"However, approximately £20m is to be saved on services for vulnerable children and adults and the Liberal Democrats will be looking into that as our first priority."
The details will be presented to the council's scrutiny committee on 24 November 2011.