Broomhill Pool gets £1m pledge from Ipswich council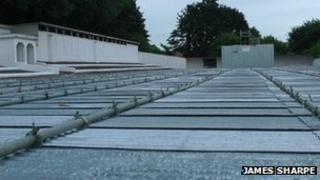 Ipswich's outdoor swimming pool is a step closer to reopening following a £1m pledge from the local authority.
Ipswich Borough Council's ruling Labour executive met to back the scheme, which means other investors and Heritage Lottery Fund money can be sought.
The Grade II-listed 50m lido has been closed since 2002.
Councillor Bryony Rudkin said: "We have restated our pledge to give £1m to restore the lido, but a great deal more work needs to be done."
The option chosen by the council includes reinstating the grandstand and clock tower and providing a fitness suite with crèche.
Other options, including developing housing at the site, were rejected.
Traffic concerns
The Broomhill Pool Trust local campaigning group has been working with Fusion Lifestyle, a leisure company which runs open-air pools in London.
The company's proposal is to spend £5m, which includes the council's £1m, but will be reliant on getting about £3m from the Heritage Lottery Fund.
Mark Ling, chairman of the trust, said: "We're delighted that the option will be given a good chance to progress.
"We think Fusion Lifestyle has a splendid track record and all the skills in terms of fundraising."
Some residents living near the pool have concerns about car parking and traffic.
Alan Holden, who lives in neighbouring Sherrington Road, said: "If they're going to make room for more parking, they're going to have to take more of Broomhill Park away.
"You've already got Crown Pools and Fore Street Baths [indoor pools] and who's going to stand around shivering?
"I would like to see [the lido] turned back to parkland or some less-impact activity such as tennis courts."
Mr Ling said: "The council is looking at the way it's planned and the way the road is set up, so there'll be lots of things they can do to mitigate the risk on that.
"Westbourne Library, which is just up the road, has parking for 30 cars and they have 77,000 visits a year and I've never heard of one complaint with parking there."