Suffolk non-league football team set for ground switch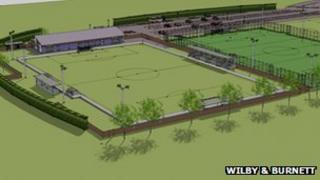 A Suffolk non-league football team hopes to be playing at a new ground by the summer of 2013, the club's chairman has said.
Planning permission has been granted for Bury Town's move to a new site in Moreton Hall, Bury St Edmunds.
The £2m project includes a new 2,500-capacity stadium, club house, changing rooms and two floodlit pitches.
Russell Ward, club chairman, said work was under way on securing funding.
"Now we've got planning permission we are working on the funding side of it," he said.
"I don't envisage any problems. We're hoping to move to the stadium during the summer of 2013."
St Edmundsbury Borough Council has pledged £1m towards the project, also supported by the Suffolk FA.
The new stadium is set to include about 500 seats with covered areas on three sides of the pitch.
The Ryman League Premier Division side will move from their current base, at Ram Meadow in the town, when the project is complete.
Mr Ward said: "It's long overdue. We've got ambitions of playing football at a higher level and this will help that."
Sara Mildmay-White, St Edmundsbury cabinet member for culture and sport, said: "We are really pleased the project has got planning approval and are looking forward to it becoming a well-used community facility."