Suffolk Wildlife Trust aims to buy Knettishall Heath Country Park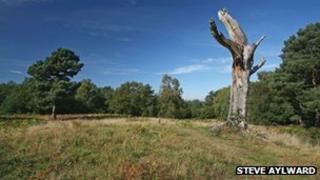 The Suffolk Wildlife Trust (SWT) has said it needs to raise £100,000 from the public by the end of January to help buy a country park.
Knettishall Heath, which is leased and managed by Suffolk County Council, is being sold by its private owner.
The trust needs the extra money to add to the £720,000 it is getting from the Heritage Lottery Fund.
Audrey Boyle, project leader for the SWT, said: "It's going to be our biggest land purchase to date."
The park, which is owned by the Riddlesworth Estate, is a mixture of heath, woods and meadow in The Brecks covering 388 acres (157 hectares).
The Conservative-run council said it spent £350,000 a year on country parks and needed to save £50m over the next two years due to cuts in its funding from central government.
Thousands of species
Councillor Judy Terry, portfolio holder for country parks, said: "We are seeking to transfer the country parks and recreation sites to community groups and local organisations.
"Whilst reducing bureaucracy, this approach will have the added advantage of enhancing the biodiversity at Knettishall, whilst ensuring good public access and involvement in the development of a local asset."
The council would give neighbouring meadowland it owns as a gift to the SWT which would increase the size of the country park to 434 acres (176 hectares).
Rare species include flora such as the maiden pink and harebell and the trust hopes birds such as the nightjar can be reintroduced to breed there.
Ms Boyle said: "It's quite a threatened habitat and we would be able to help nurture the 12,500 species that live in the Brecks.
"The [lottery] grant is conditional on raising the £100,000 in four weeks, so it's critical that we have the public support with that."
Knettishall Heath also includes the River Little Ouse on its northern side, the bronze age Hut Hill barrow dating from 2,400-1,500 BC and the start of the 100 mile Icknield Way which dates from 4,000 BC.