Blue badge-holders to pay for parking on Suffolk coast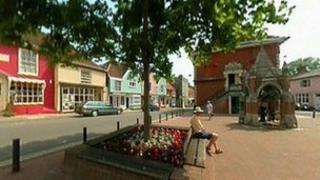 Blue badge-holders will have to pay to use council car parks in Aldeburgh, Woodbridge and Felixstowe from April.
Suffolk Coastal District Council has approved the plans which also include increased charges at town centre car parks and the introduction of parking fees in Framlingham.
The council said the measures would save £362,000 from its budget.
Chris Mapey, secretary of the Market Hill Association in Woodbridge, described the charges as "madness".
Mr Mapey, landlord at The Angel pub in the town, said: "People coming into a town such as Woodbridge, Aldeburgh and Felixstowe are the lifeblood of the town and keeps it vibrant - cut that off and we're in trouble."
'Financial pressure'
Councillor Andrew Nunn, Conservative, said the charges had not been raised since 2006 and would remain "very reasonable".
"Financial pressures have meant that we just have to raise charges - car parking is one of the few areas that we can gain revenue.
"We've got to meet the budget shortfall and if we don't increase car parking charges that money has got to be found somewhere else and it would possibly hit frontline services."
Other measures in the plan include the withdrawal of the discounted beach hut owners' car parking permits and the conversion of Woodbridge's coach and lorry park on Station Road to accommodate more cars.
The council said it had thought about the needs of blue badge-holders.
Their tickets will be valid for twice the duration of other drivers and the council said it would work to make pay-and-display machines more accessible.
Helen Dolphin, director of policy and campaigns for Disabled Motoring UK, said: "I'm pleased they're giving some sort of allowance, but I'm still disappointed that this is happening.
"One of the reasons I feel disabled people should have free parking in car parks is because if you don't do that it encourages disabled people to park on the roads, where they can park for three hours free.
"This can cause congestion and is far more dangerous for disabled people to be unloading mobility equipment in the middle of busy roads."