Suffolk man attempts to cycle around the world in 160 days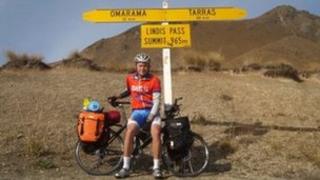 A 23-year-old man from Suffolk is hoping to cycle 18,000 miles around the world in 160 days.
Richard Dunnett, from Occold, is taking part in the Global Bicycle Race, which starts in London next month.
He hopes to cycle up to 160 miles a day and attempt a world record for circumnavigating the globe, which organisers say stands at 163 days.
He said: "If I get back for the opening ceremony of the Olympics it would mean I got round in 160 days."
Mr Dunnett said he hopes to average 120 miles a day.
"On a good day, I'd like to be doing 150-160 miles, with nice roads and a tail wind," he said.
"The minimum I need to do is 100."
Mr Dunnett said he got a taste for long distance cycling while travelling in 2010.
"I went to South East Asia, New Zealand and Australia. We started off travelling on the buses but in Australia I started to miss my bike.
"I bought one and cycled around both islands of New Zealand and the East Coast of Australia - nearly 6,000 miles."
He said the biggest challenge will be eating enough food, with an estimated 8,000 calories required daily to sustain his effort.
Mr Dunnett, who works as an electrician, will be raising money for Make a Wish Foundation.
He said: "My family are always really supportive of anything like this because they like an adventure and want me to give it a try.
"My friends think I'm crazy."