East Anglian Film Archive publishes video online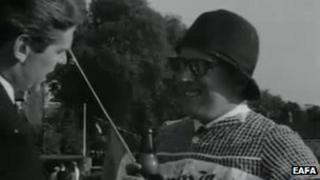 More than 200 hours of archive footage showing life in the East have been made available online.
The East Anglian Archive's website has video dating from 1885 to 2008, much of it sourced from BBC and ITV local news reports.
Director Prof John Charmley said a £1m grant from the Heritage Lottery had made the site possible.
"It's a wonderful resource for anyone interested in the history of Suffolk," said Prof Charmley.
He said the site has attracted visitors from around the world.
"What we've got is three types of people - those who want to see what was in their village, a lot of US ex-serviceman who were based in East Anglia during the war or Cold War period and people whose grandparents came from Suffolk and emigrated.
"That is part of the fascination, that you could see one of your relatives online."
The site covers a range of subjects and events in varying degrees of historical significance.
Prof Charmley said he hoped the online archive, which is operated by the University of East Anglia, would continue to grow.