FirstGroup withdraws buses from Bury St Edmunds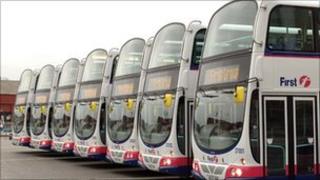 Transport firm FirstGroup is withdrawing its operations in the Suffolk town of Bury St Edmunds.
The company said the business had "not been commercially viable for some considerable time" and is blaming industry-wide cost increases.
FirstGroup will also close its bus depot in the town when it winds up operations on 31 March.
Staff will be offered alternative employment at the company's Ipswich depot, it has pledged.
It also said the government's decision to reduce the Bus Service Operators' Grant by 20% from April had affected the company.