Barn owl numbers on the rise in Suffolk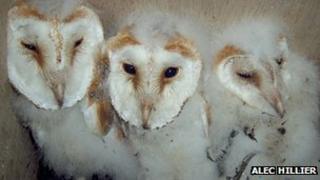 The number of barn owls in Suffolk is on the rise and could be at a 50-year high, according to the Suffolk Community Barn Owl Project.
The group said 317 of the 1,307 nest boxes had been occupied last summer, up from 250 the previous year.
Breeding barn owls were found in 192 of the boxes, compared to 170 in 2010.
Project administrator Oka Last said the rise was a result of work to provide suitable habitats which increased the owls' feeding opportunities.
Ms Last said: "Brood sizes were the largest ever and there were more barn owl chicks ringed than in any previous year."
The group said it believed the number of barn owls breeding in the county to be the highest since the 1960s, and possibly the 1930s.
It will now focus on the west of the county, where barn owls are "few and far between".
The group will create suitable grassland to attract short tailed voles, the owls' favoured prey, and put up more nest boxes.
The Suffolk Community Barn Owl Project is a partnership project between Suffolk Wildlife Trust and Suffolk Ornithologists' Group.