Suffolk County Council freezes council tax for 2012-13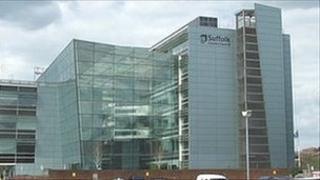 Suffolk County Council has agreed to freeze its portion of the council tax for the second consecutive year.
The cabinet at the Conservative-controlled authority has agreed to save £26m from its £1bn budget for 2012-13, including £8m from adult care.
Under the plans, the county council's part of the council tax would remain at £1,126.53 for a Band D household.
The budget decisions still have to be approved at a full council meeting on 9 February.
Other savings that were agreed include cutting management costs by £1.5m and reducing spending on office space by £700,000.
The council, which made £43m of savings in its 2010-11 budget, is looking to save £50m over the next two years.