Andrew Farndon prison escape: E-fit of gunman released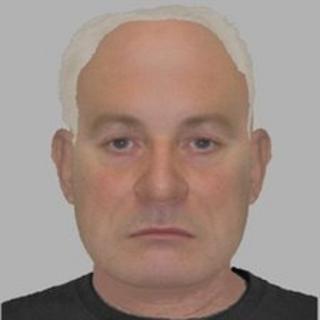 Police have issued an e-fit likeness of a gunman who helped a prisoner escape from a Suffolk hospital.
Andrew Farndon, 26, fled when two guards were threatened as he arrived at West Suffolk Hospital, in Bury St Edmunds, on Wednesday evening.
Police said Farndon was "potentially dangerous" and could be anywhere in the United Kingdom.
Officials are investigating whether Farndon inflicted a serious knife wound on himself ahead of the hospital trip.
Officers have traced witnesses to the incident and said they had received "a number of calls" from the public.
'Determined efforts'
Det Ch Insp Nick Bennett, who is leading the investigation, said: "We are keeping an open mind as to where he is, he could be anywhere in the United Kingdom.
"He is a potentially dangerous man and determined efforts are being made by ourselves and forces across the county to trace him and his accomplice."
Farndon, whose family live in the Coventry area, had previously escaped by leaping from the dock while on trial in 2007 over a hammer attack.
He is serving an indeterminate sentence for causing grievous bodily harm.
Police released CCTV images of a gunman approaching the hospital and the two men fleeing.
Mr Bennett said officers were investigating whether mobile phones were used in the planning and execution of the escape.
"It smacks of something which has been planned well in advance and with associates on the outside," he said.
Farndon was taken to the hospital's accident & emergency department in a taxi accompanied by two guards.
A Prison Service spokeswoman said "vetted taxi companies" were used "routinely" to transport prisoners on visits including non-emergency medical appointments.
Farndon was rated a Category C prisoner, a security classification which meant he was considered unlikely to make a determined escape attempt.