Felixstowe south seafront housing plan from Bloor Homes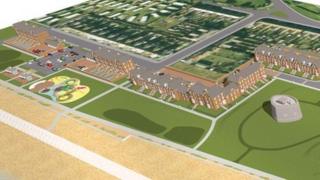 A fresh application has been made to build 127 homes on an area of derelict seafront in Felixstowe.
Bloor Homes is behind the scheme for the 17.5 acre site, between Manor Terrace and Orford Road.
Suffolk Coastal District Council approved a similar scheme for the same area in 2009, but building did not commence.
A Bloor Homes spokesman said: "The new plans have a shift in emphasis towards family homes, to meet local needs."
The area was the site of hundreds of beach huts and the former Herman de Stern convalescent home which caught fire in 2005 before it was demolished.
It also features a grade II-listed martello tower built c.1810.
'Renewed confidence'
Mayor of Felixstowe, Doreen Savage, said: "It's one of the sites that has been a bugbear for so many years and I'm delighted the proposals for it have been brought back.
"I think the consensus of people who were at the recent town hall exhibition was 'get on with it' and it would be really nice to see [Felixstowe get] an uplift."
The 2009, permission was given for 103 apartments and 55 houses, but the developer said it decided not to press ahead with building because of the economic downturn and because a large number of flats were already being built in Ipswich.
The new application features 97 three-bedroom houses and 30 apartments as well as play and wildlife areas and potential for a restaurant.
Joseph James, of the Felixstowe Futures economic partnership, said: "Any investment and development of this scale shows a level of confidence in Felixstowe that is perhaps not there in other towns."
The council said the closing date for responses as part of the planning consultation process is 16 February.
The developer said, if planning permission is granted, work could begin later this year.