Prince Harry presents awards during RAF Honington visit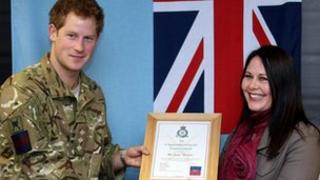 Prince Harry has visited RAF Honington in Suffolk to meet service personnel and their families.
The prince, named Honorary Air Commandant by the Queen in 2008, also presented a selection of service commendations.
Jacqui Thompson, whose husband was killed in service in Afghanistan four years ago, was given a special award for her work for service charities.
"It was incredibly special and such an honour," said Mrs Thompson.
Prince Harry was driven to the base from Wattisham Army airfield, where earlier this week he qualified as an Apache pilot.
He spent about an hour inside the 15 Squadron RAF Regiment's hanger being shown hardware and speaking with personnel who had protected air bases from attack in Iraq and Afghanistan.
Mrs Thompson said: "I was watching him with the members of the RAF Regiment and he just seemed in his element, very at ease and happy.
"It was tremendous to meet him."