Asbestos found in crumbling Stour estuary seawall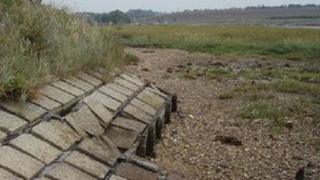 Workers will wear special clothing to protect them from asbestos as they repair a section of seawall on the tidal River Stour estuary in Suffolk.
The Environment Agency is carrying out £15,000 of work on crumbling defences at Holbrook.
Workers have to collect loose grout which contains asbestos before restoring the brickwork.
The agency said the clothing was a precaution as there was little chance of asbestos fibres being released.
The work is being carried out at three places on the wall between the Royal Hospital School boathouse and Markwells Farm, Stutton.
David Rose, Babergh district councillor for Holbrook, said: "Babergh, and myself, have been assured that while this vital work is being carried out it is perfectly safe for people to continue to walk along the footpaths and area surrounding the seawall."
The work begins on 20 February and it is expected to take two weeks to complete.
The agency said access to the seawall footpath may be limited at times while the work takes place.