London 2012: Olympic torch route for Suffolk unveiled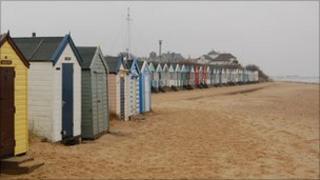 The Olympic torch relay route through Suffolk has been announced by the London 2012 organisers Locog.
The torch goes to Suffolk from Norfolk on 5 July, first arriving at Lowestoft where it will be taken through the High Street of the town centre.
The route will also take in the most easterly part of the UK, Ness Point in Lowestoft - a site for birdwatchers.
The torch will also go to Ipswich, leaving Suffolk on 6 July before returning on 7 July to Bury St Edmunds.
The torch will arrive at Lowestoft from Norwich at about 10:00 BST, then at about 11:00 BST it will travel to Wrentham, Reydon, Southwold, Kelsale, Saxmundham and Aldeburgh - long associated with its classical music festival and its association with composer Benjamin Britten.
It will leave Aldeburgh in the afternoon, going to Wickham Market, Ufford and the scenic town of Woodbridge on the River Deben.
The flame then goes to the UK's largest container port Felixstowe before going to the county town of Ipswich where it is due to arrive at about 17:30 BST.
It will leave Suffolk bound for Colchester in Essex on 6 July before returning on 7 July en route from Essex to Cambridgeshire.
The torch will go through Haverhill, Bury St Edmunds and Newmarket - long associated with the royal family and the home of horseracing.
David Baynes-Robinson, 39, learned his wife Rachel had successfully nominated him to carry the torch via email.
"I thought it was a bit of spam to be honest, as it's not every day you get told you're going to be holding the Olympic torch," he said.
Mr Baynes-Robinson, who is head of education and welfare for Ipswich Town Football Club, will carry the torch on part of the Ipswich leg.
He was asked to keep the news a secret so only told his wife and daughter.
"She wondered why I would want to run around with a torch in my hand in the middle of the day," he said.
The short distance should not prove a problem for Mr Baynes-Robinson, who has run 17 marathons for various charities.
"I'll only run a few hundred metres but it's what it represents - it's the fact that you're holding the Olympic torch, with the ever-burning flame," he said.
"In July, when the flame lights up the big torch and there are billions of people around the world watching, it will be an amazing honour to know that I've been involved.
"The Olympics is an ideal, rather than just a sports competition, and to be involved with it is astonishing."