Killer Kevin Nunn in High Court forensic evidence challenge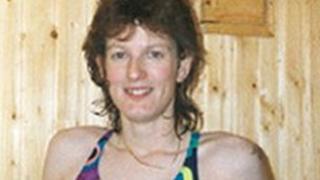 A convicted killer has started a new High Court challenge to access forensic evidence that his lawyers claim could clear his name.
Kevin Nunn, from Woolpit, was jailed in November 2006 for the murder of his ex-girlfriend Dawn Walker, 37.
Her body was found close to the River Lark, near her home in Fornham All Saints, on 4 February 2005.
Nunn is challenging Suffolk police's refusal to release the evidence.
'Newly developed' testing
He was handed a life sentence, with a minimum of 22 years to serve, following a trial at Ipswich Crown Court.
Nunn has already had one conviction challenge rejected by the Appeal Court.
Speaking outside the London court, his sister, Brigitte Butcher said the family had spent £50,000 striving to prove his innocence.
She said their 76-year-old father, Horace, a retired lorry driver, had used his savings on the case.
Ms Butcher, a nurse from Diss, said: "If I thought for one minute he was guilty, I wouldn't be doing this."
Hugh Southey QC, for Nunn, said there was no direct forensic evidence linking him to the crime.
Mr Southey said recent breakthroughs in forensic science could throw new light on the case but the Chief Constable of Suffolk had refused to grant access to physical evidence gathered at the time.
Declined access
Much of the legal challenge focuses on sperm traces found on Ms Walker's legs, which defence lawyers say should be subjected to "newly developed" testing.
Mr Southey said Nunn claimed to have undergone a vasectomy some time before the murder, and so could not have produced the sperm sample.
Intensive analysis of this evidence might help identify the man who produced it, he said.
Nunn - now held in HMP Garth, in Leyland - is seeking judicial review of the decision to deny access to "prosecution evidence remaining in the possession of the police".
Fiona Barton, for Suffolk Police, said prosecutors had never claimed that the sperm sample originated from Nunn.
Julian Knowles, representing the Crown Prosecution Service, argued the scientific evidence at Nunn's trial had been "largely irrelevant".
Lord Justice Thomas and Mr Justice Haddon-Cave deferred judgment on the case until a later date.