Wattisham Army Air Corps wives start choir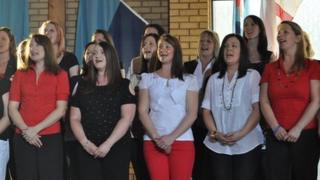 "Everybody's very worried about how their husbands are and it does make you forget for those two hours that you're here - you really don't think about anything else."
So said Sally Wilkinson, 30, who had the idea to form the Wattisham Military Wives Choir at the Army airfield in Suffolk.
The 40 women were inspired by Gareth Malone's BBC television series The Choir, which yielded the Christmas number one single Wherever You Are.
Mrs Wilkinson's husband, Capt Phil Wilkinson, is an Apache helicopter pilot who has served in Afghanistan with the Army Air Corps.
She said: "I was just really inspired by what a group of women could achieve in such a short space of time and and wanted to see if I could recreate it.
"It's quite isolated where we are and this life can often be quite lonely when your husbands are away, so it's been a really good support network.
"A lot of the time you feel a little bit like a spare part and you're here to support your husband, so it's really nice to give us a voice and express ourselves and show who we are and what we can do."
The choir has been backed with a £1,000 donation from the Royal British Legion and it meets weekly at the air base church.
Andrea Blundell, 37, is the wife of Warrant Officer Kevin Blundell, and they have been based at Wattisham for five years.
"It is tough and this is my husband's sixth tour of Afghanistan and it doesn't get any easier and this is just something in the mix that makes the weeks fly by," she said.
"I love singing and I love music and the choir provided crèche facilities for my two children.
"It makes you feel good and it must produce good hormones or something because we all come out of here buzzing."
Clare Ellard, 25, whose husband L/Cpl Luke Ellard is also serving with the Army Air Corps in Afghanistan, said: "It's hard and especially difficult with young children, but it's his job and I support him in his decision.
"I've been here three years and a lot of people do stick to themselves, but this has really brought everybody together."
Choirmaster Michael Dann said: "The majority at Wattisham are non-singers, but there is something about singing in a group that suddenly spurs everybody on and it's just working so well.
"The original Military Wives choir are absolutely stunning, but their songs are very thoughtful and tender.
"When I spoke to the girls here they didn't want to be reminded that husband was away and they wanted to sing some fun songs and so we're doing Mamma Mia and Don't Stop Believing.
"It should be on the NHS it's such a pick-me-up."
Sally Wilkinson has praised the choirmaster's performance: "He's brilliant - he's better than the original Gareth and it's amazing what he's done in six weeks.
"We're live wires and it's hard to keep us in order, so he's definitely stepping up to that challenge."
The choir has performed twice in the officers' mess at Wattisham and there are plans to arrange public performances at events such as village fetes.