Stolen front lawn leaves Ipswich man in state of disbelief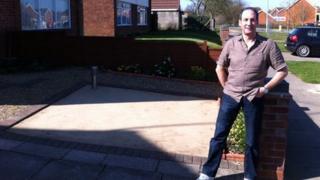 An Ipswich man has said he cannot believe people "would stoop so low" as to steal his artificial front lawn.
Steve Woolnough said his wife was the first to notice the 100-ft-sq turf was missing from the front garden of their home in Bramford Lane.
"I didn't believe it," he said. "A few expletives were uttered."
He added: "I haven't got a clue why anyone would take it, but the hosepipe ban is coming in and maybe someone wanted it for their own garden."
He said he bought the turf for £130 about six years ago after his grass turned yellow and brown in the summer and it would cost about £250 to replace.
Mr Woolnough said the turf, which was not stuck down, was too heavy for one person to carry and thieves probably used a vehicle to take it away.
'Fall off chair'
He said: "I phoned the police and said 'I'd like to report a theft'.
"The guy said 'what's been stolen?' and I said 'the Astro Turf from my front garden'.
"I paused because I thought he would fall off his chair, but he was very professional."
A spokesperson for Suffolk Police said: "It would have taken some time to remove such a large quantity of Astro Turf from this garden and needed a vehicle to take it away.
"Officers want to speak to anyone who may have seen any suspicious persons or vehicles in this area overnight Monday/Tuesday last week."