Southwold harbour crash death cause unclear, says coroner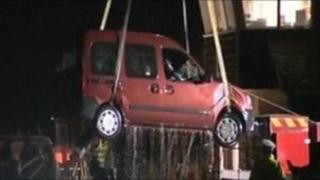 An 89-year-old man who died after driving into Southwold harbour may have suffered a heart attack or hit a wrong pedal, a coroner said.
Philip Evans, of Wangford, was killed when his car crashed through railings at speed, last October.
Coroner Dr Peter Dean, sitting at Lowestoft Magistrates' Court, has now returned an open verdict on his death.
The inquest heard Mr Evans had heart disease but Dr Dean said it was unclear if it contributed to the crash.
Dr Dean said a heart attack could have prevented Mr Evans from saving himself, but the crash might simply have been an accident.
As neither could be proved, he said it was an "unanswerable conclusion".
Dr Dean said there was "nothing untoward" about Mr Evans' demeanour or state of mind.