Husband's 'raging anger' at assisted suicide law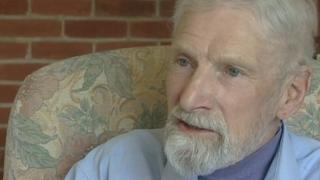 Within two months of finding out she had Huntington's disease, Elizabeth Sheldon had made her mind up.
She had treated a patient with the same degenerative condition three years earlier and the memories were still vivid.
It was the "worst" case of suffering she had ever seen in her job as a district nurse.
The patient could not walk, could barely stand up and needed 24-hour care.
Mrs Sheldon's mother had suffered from the same genetic disorder and she knew there was a 50% chance that it was hereditary.
When told of her diagnosis in 1979, it had a devastating impact.
Unbeknown to her husband, Barrie, she contacted a euthanasia society.
She had wanted to die quickly and with dignity, before the condition fully took hold and without implicating anyone.
Mr Sheldon knew his "tough, vivacious and caring" wife had wanted to end her life but it was only when police officers visited their house that he realised how advanced her plans were.
'Worst weekend'
Detectives had started an investigation into the society's activities, meaning that plan was scuppered.
But the couple quickly came up with a new one.
While Mr Sheldon went away for the weekend, he left his wife at home in Ruislip, west London, with pills he had counted out for her.
Mr Sheldon, who now lives in Worlingworth, Suffolk, said: "It was the worst weekend of my life but they would have put a murder charge on me if I had been with her.
"When I returned, having had no sleep at all, she was writhing around, semi-conscious with cuts and bruises from where her limbs had caught the furniture.
"The pills had not had the killer effect."
In a "histrionic state", Mr Sheldon rushed to a neighbour's house and an ambulance was called.
"I wouldn't let them touch her," he said. "It was a very emotional scene.
"I'm not a Clint Eastwood hero but I did my duty."
Mr Sheldon waited at her bedside as he refused to allow her to be treated for 24 hours.
He had shown doctors the "living will" his wife had signed on 5 September 1979, stating that her wish not to receive treatment to prolong her life.
"I was faced with a dreadful dilemma," he said. "It was so unreal and, naturally, you do say, why me?
"But my situation was a bed of roses compared to my wife's.
'Emotional scene'
"Frankly, I was just saying 'die, die, die'."
Four days later, on 31 March 1982, Mrs Sheldon was pronounced dead in hospital, aged 50.
The couple met at a dance in May 1959 after Mrs Sheldon moved to London from Morayshire, in Scotland, for her work.
They married seven months later and holidayed around the world, travelling throughout Europe, North America and Africa.
Saturday is the 30th anniversary of his wife's death and, for Mr Sheldon, time has not proved to be a healer.
"It's not behind me, it never will be," said Mr Sheldon.
"I have a raging anger that society could do this."
He has campaigned for a law change and, in February 2010, decided to speak about his role in his wife's death on the BBC's Newsnight programme.
Previously, he had only told friends. The decision saw him arrested by the Metropolitan Police in April 2010.
He was released on bail and, around a year later, charges were dropped.
'Raging anger'
"I didn't know at the time but, in retrospect, I think I was a nuisance to them," said Mr Sheldon.
"They would have preferred me to have kept my mouth shut and saved them a lot of trouble."
The 79-year-old retired water board inspector thought the risk of being charged was worth taking.
He was confident a jury would have acquitted him if it had reached court.
It meant he was able to tell his story and call for a change in the law on assisted suicides in the UK.
"At the moment, if you've got the money and the mobility you can go to Switzerland," he said.
"This is a shocking, disgraceful case of double standards. It's an absolute mess.
"There must be thousands of people who have loved ones who are desperate and they don't know what to do.
"The loved ones have had enough. They are frightened of being prosecuted.
"This, for me, is the thrust of why I want something done. That's the very least I can do in memory of my wife."
The 1961 Suicide Act makes it an offence to encourage or assist the suicide or attempted suicide of another person, punishable by up to 14 years in prison.
Keir Starmer, the Director of Public Prosecutions, must give consent before an individual can be prosecuted.
A spokesman for campaign Dignity in Dying said: "We believe that the law should have offered Mrs Sheldon and should offer others like her, both choice and protection.
"People should not have to turn to loved ones for help to die."