MPs Daniel Poulter and Peter Aldous call for helipad at Addenbrooke's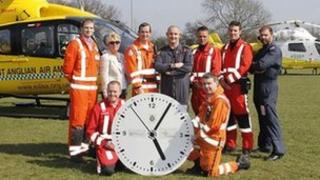 Trauma patients' lives will be put at risk unless a helipad is built at Addenbrooke's Hospital, MPs have said.
MPs Daniel Poulter and Peter Aldous have written to the secretary of state for health to call for a helipad to be built at the Cambridge hospital.
They have asked for it to be considered as part of the East of England major trauma system review.
Dr Poulter said without the heliport air ambulances could not "support rapid treatment of severe trauma patients".
Addenbrooke's accommodates the recently opened Major Trauma Centre, which will treat severely injured patients from across the region who would previously have been taken to local emergency departments.
The centre should be fully operational by August.
'Golf course landing'
Dr Poulter, Conservative MP for Central Suffolk and North Ipswich, said the region's two air ambulance crews played an "invaluable role in supporting the NHS in life threatening emergencies".
"If we are going to have in the East of England, quite rightly, a major trauma [centre] at Addenbrooke's, we need to make sure it is fit for purpose," he said.
"It is impossible to have a trauma centre, in my view as a doctor and an MP, unless we have a helipad to support the air ambulance."
Air ambulances currently have to land on a golf course south of Addenbrooke's.
Tim Page, chief executive of the East Anglian Air Ambulance, said it currently took between 10 and 12 minutes to transfer patients to the emergency department at Addenbrooke's.
He said: "[A helipad] would make a difference of something in the region of five or six minutes to the transfer time of patients."
The letter to Andrew Lansley, the secretary of state, was co-penned by Mr Aldous, Conservative MP for Waveney.
It also asked Mr Lansley to keep joint training schemes, which give trainees experience of working in London and the East of England.
Dr Poulter said on Twitter the letter had been signed by "the majority of East England MPs".
A spokesperson for the department of health said: "We will respond to the letter in due course."