Council worker allowed to keep dog found in rubbish bin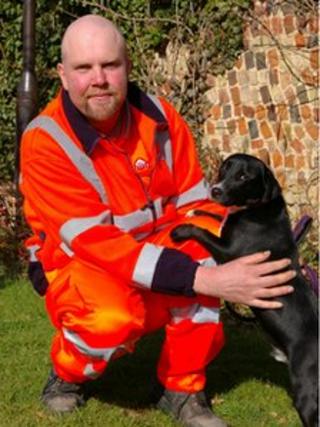 A man who found a dog in a rubbish bin says he is "really pleased" to become his full-time owner.
Jason Bloomfield, 40, found the dog in a roadside bin while working for Mid Suffolk District Council's street cleansing team in March.
He took care of Dusty as the council waited 30 days to hear from the dog's original owner. Nobody came forward.
"I can't imagine life without him now," he said. "It's only been a month but he's settled in and doing really well."
Mr Bloomfield, who lives in Creeting St Mary, said Dusty had been "absolutely brilliant".
"He's answering to his name and is house trained, I couldn't have hoped for better," he said.
'Humbling response'
Checks by vets revealed that Dusty was younger than one year old. Mr Bloomfield said he will mark Dusty's birthday in June, sharing it with the youngest of his two daughters.
Mr Bloomfield found Dusty while collecting litter from a locked bin near Stowmarket.
He described the media coverage of his story as "a big surprise" and wanted to thank his local community for their support.
"It's been humbling how much people care," he said.
"I had to go to Stowmarket Asda the Saturday after I found him as everyone had chipped in to buy him bags and bags of food and toys. They've put a picture up of him on the notice board."
One lady said she had seen Mr Bloomfield's story on BBC Look East.
"She said 'my little dog died two weeks ago and I sat in tears watching your report on the telly'," said Mr Bloomfield.
"She gave me £5 towards a new dog's bed."
Mr Bloomfield has not been able to determine Dusty's breed.
Mid Suffolk District Councillor Roy Barker said: "Jason has done a highly commendable thing and stepped above and beyond by taking responsibility and rehoming Dusty.
"Our Environmental Health team have carried out all the necessary checks and know Dusty will be going to a loving and caring home."
Mr Bloomfield will officially become Dusty's owner on Thursday.