SnOasis developer Godfrey Spanner declared bankrupt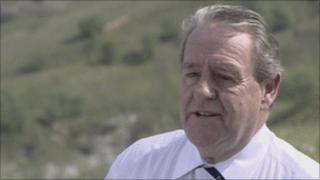 The developer behind an ambitious £350m plan to build the world's largest indoor ski resort in Suffolk has been declared bankrupt.
SnOasis, which planners were told would create 3,000 jobs in Great Blakenham, was already years behind schedule.
Godfrey Spanner, the man behind the project, was declared bankrupt on 14 March, Companies House records show.
He said it was a "huge personal disappointment" but insisted the SnOasis project would be unaffected.
Mr Spanner has resigned as a director of Onslow Suffolk Ltd but will continue as an adviser.
'Nothing has changed'
He said he expected to be back working on SnOasis in a year's time, with work due to begin on the site next month.
He added: "Nothing has changed."
The SnOasis project, which would include chalets, ice skating rinks and toboggan runs, was first put forward in 2004.
It had been due to open in 2007 but was not granted outline planning permission until a year later.
Part of the land near Ipswich has been sold off to a developer for housing and those homes are being built.
A spokeswoman for Mid Suffolk District Council, the local planning authority, said Mr Spanner's personal financial situation would not impact on the planning consent for the scheme.
She said the current planning consent would remain in force until 31 October 2016.
Andrew Stringer, Green and Independent group leader on Mid Suffolk District Council, said he had doubts over whether the project would go ahead.
"On a personal level, I think it's rather doubtful whether the existing plans will be able to be built," he said.
"I would've thought a frontman being declared bankrupt would make it harder to attract investors."