Sizewell B nuclear reactor working after fault shutdown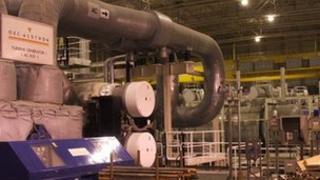 Sizewell B nuclear power station in Suffolk is working again after a fault sparked its first unplanned stoppage for three years.
An electrical fault in another part of the plant automatically shut the site's reactor and turbines on 2 March.
The reactor and one turbine at the site began working on 13 March and the second turbine rejoined the National Grid on Sunday.
The site is expected to be back to full capacity by Wednesday.
It produces power for about two million homes or about 3% of the UK's electricity needs.
Jim Crawford, Sizewell B station director, said: "I would like to thank all our staff and contract partners for their hard work and commitment during this very challenging period.
"The fact all this work has been carried out in a safe, professional manner is a testament to the quality of staff we employ at the site."