Macmillan Cancer Support doorstep fundraising criticised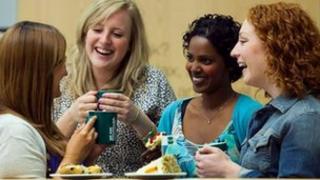 A cancer charity's local group has withdrawn its support after a dispute about doorstep fundraising in Suffolk.
The Aldeburgh & District Macmillan Cancer Support committee said it received complaints about the methods used by people working directly for the national organisation.
Bernadette Eklid, committee chairman, said: "It has been a difficult decision and distressing."
The charity said its fundraisers were trained to high standards.
The Aldeburgh committee, which has existed for about 30 years, raised £25,000 for the national charity last year through dances, bridge drives, coffee mornings and street collections.
However, Ms Eklid said the committee fundamentally disagreed with the practice of door-knocking and "pressurising people to sign up for direct debits".
'Very persistent'
"In small towns you have lots of elderly, vulnerable people and people knocking on their doors at night is just unacceptable," she said.
"They have been very persistent to the point of people almost having to be rude to get rid of them, and we didn't want to be associated with that sort of fundraising.
"They've undermined the support we've built up over the years."
The national charity said it would continue its door-to-door campaign in the Aldeburgh area.
Lynda Thomas, director of fundraising at Macmillan Cancer Support, said: "We are very sorry that the committee is upset by our door-to-door fundraising.
"In East Anglia alone, our door-to-door campaign is proving to be a tremendous source of vital funds, raising £250,000 in the last 12 months from new supporters whom we might not have reached via our existing traditional avenues.
"We are committed to extremely high standards of fundraising and regulation and take great care in the recruitment and ongoing training of all Macmillan fundraisers [who] are trained to take extra care to avoid creating anxiety among older people."
The charity said all complaints were followed up with the individuals concerned.
Ms Eklid said the Aldeburgh committee would meet later in the year to look at fundraising for local charities instead.