Digger used to steal cash machine in Hadleigh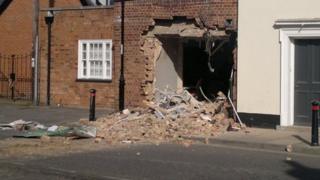 Thieves have used a digger to steal a cash machine from a bank in Hadleigh.
Police were called to the Lloyds TSB bank on the junction of Market Place and High Street just after 3:30 BST.
Insp Matt Rose said the thieves dumped the cash machine nearby but probably got away with a cashbox. The digger was left at the scene.
"We don't know how much (the cashbox) contained," he said. "We're working with structural engineers to assess how much damage was caused to the bank."
Police said the digger is thought to have been driven to the bank from the direction of St Mary's church.
Anyone with any information about the theft has been urged to contact the police.