West Suffolk Hospital opens new emergency unit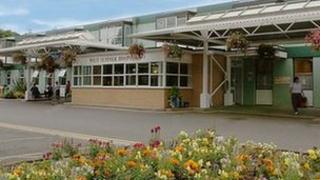 The West Suffolk Hospital has officially opened its new £800,000 emergency assessment unit (EAU).
The unit, which has 17 beds, has been moved from a portable building to be closer to the A & E department.
It has been created by refurbishing a general nursing ward which was closed two years ago.
Gwen Nuttall, executive chief operating officer, said: "Its location makes it easier for us to transfer patients, in turn helping us work more efficiently."
The unit has extra side rooms, more assessment trolleys and has been redecorated with colour schemes which are designed to reduce confusion in patients with dementia.
Ms Nuttall said: "There is just more space to assess people with regards to flow and decision making.
"Previously, if people came and there was no space to assess them, you just automatically made the decision to admit [the patient to hospital] where they would then be assessed.
"So it makes it more efficient for us and better for the patient because it's very clear what's going to happen to them straight away."