Easton Broad flood protection scheme on display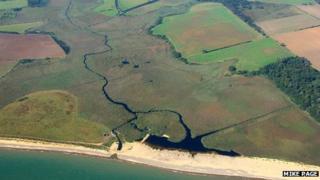 A flood protection scheme is being planned to save part of a Suffolk freshwater reed bed from the sea, but allow the rest to become salt marsh.
The Environment Agency's plans for Easton Broad near Southwold would involve the construction of a 1,300ft (400m) clay bank along the B1127.
The reed bed to the west will be better protected, but the seaward side would become saline over time.
The work is expected to take until 2017 to complete.
Easton Broad, which is home to freshwater birds including the bittern, is protected from the sea by a shingle beach which is regularly breached during high or surge tides.
New habitats
Paul Miller, project manager for the Environment Agency, said: "We've been monitoring it since 1991 and it's been rolling back 6-9ft (2-3m) per year, so the shingle ridge is not a sustainable option.
"When the area floods with saltwater it's the fish which die, and that's the food source for the bittern, so keeping the freshwater reed bed fresh is quite important."
The road, which runs between Reydon and Wrentham, crosses the broad and is prone to flooding, so it will also be protected by the clay bank, which still needs planning permission.
The broad covers 445 acres (180 hectares) but the 125 acres (50 hectares) between the road and sea will get no further protection.
Mr Miller said: "We will find new land and recreate suitable freshwater habitat to offset the losses at Easton Broad, but that will take 10 to 15 years to develop as reed bed."
Nick Collinson, Suffolk Coast and Heaths Area of Outstanding Natural Beauty manager, said: "It'll maintain the integrity of the freshwater reedbed on the landward side of Potter's Bridge [on the B1127], so in that sense it's helping to control change.
"It's important to protect property on parts of the coast, but in other parts the coast has been changing for millennia - we're quite happy with it."
The Environment Agency is holding a drop-in event at Reydon Village Hall on Thursday to discuss its plans with the public.