Faster broadband for Suffolk 'by end of year'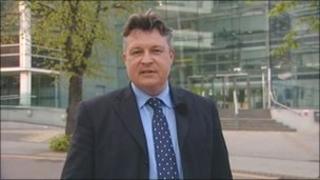 Rural parts of Suffolk which still rely on dial-up internet connections could have broadband by the end of the year, the county council has said.
Leader Mark Bee said people with the slowest connections would take priority when the roll-out of super-fast broadband began in September.
The county has an average broadband speed of under 5Mbps but Mr Bee said in some cases it was slower than 60kbs.
He said: "We want to see (the average) go up to 15Mbps in the near future."
A spokesman for the council said the entire county should have access to super-fast broadband, considered to be at least 24Mbps, by 2015.
'Attractive to business'
The project is costing an estimated £41m. The council has put aside £10m and the government has contributed £11m.
The rest of the cost would be met by the company installing the infrastructure.
Suffolk County Council has been encouraging businesses and residents to complete its Better Broadband Demand Registration survey.
About 12,000 people have taken part.
Mr Bee said this response was proof of a demand for super-fast broadband and should prove attractive to potential contractors when the tendering process began later this month.
"We want to start the roll-out of this fast broadband from September this year," he said.
"We want to see this move forward evenly across the county, but we want to see those areas where it is limited to get the priority first."