Museum of East Anglian Life opens Abbot's Hall, Stowmarket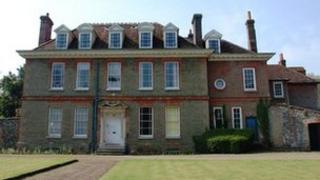 An 18th Century house in the centre of Stowmarket is opening to the public for the first time as part of a £3m museum project.
The Abbot's Hall at the Museum of East Anglian Life has been refurbished with nine exhibition rooms.
Work began on the hall in 2011, four decades after the museum opened.
Tony Butler, museum director, said: "We're really excited about re-uniting the house with the museum landscape."
The Abbot's Hall dates from 1709 and before that it was the site of a monastic grange linked to the Priory of St Osyth in Essex.
The museum opened in 1967 using land given by the Longe family, with the hall acquired on lease in 2005.
'Fascinating objects'
The new exhibitions explore the history of the hall, food and farming, St Audrey's asylum at Melton, the travelling community, traditional folk music, gardening and On Landguard Fort which is the Cultural Olympiad arts project for East Anglia.
Mr Butler: "This was always 'the big house' in the centre of Stowmarket and the displays show the idea of home and belonging based on your friendships and relationship to the landscape and agriculture.
"One room features the work of George Ewart Evans who was an oral history pioneer who amassed interviews with people who worked the land and it's the first time these recordings have been available to listen to in a public place like this."
Lisa Harris, museum curator, said: "Downton Abbey is probably the programme most people would link the hall's dining room with.
"It has been a challenge to fill these rooms, but fascinating and we've dug out objects from our collection which have never been seen by the public before."
The Abbot's Hall opens to the public on 21 April.
Two estate workers' cottages next to the hall will open to the public in May, while the wooden octagonal Settling House, which used to be on the cattle market site in Bury St Edmunds, has been relocated to the museum in Stowmarket.