Footballer Michael Chopra road ban over red light offence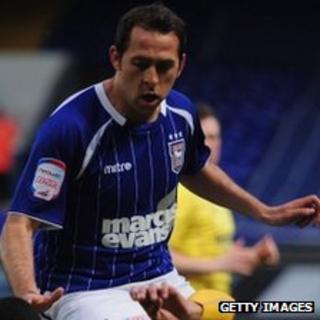 A Championship footballer has been banned from the roads for six months after admitting driving through a red light.
Ipswich Town striker Michael Chopra, 28, was seen committing the offence in Princes Street, Ipswich just after midnight on 28 September last year.
Magistrates in Ipswich told Chopra he would receive an automatic six-month ban after the offence took him to 12 points on his driving licence.
Chopra left court without commenting.
He was also fined £400, told to pay £85 in court costs and £15 to victims of crime.
Gambling debts
The former Cardiff City, Sunderland and Newcastle United player was accompanied at the hearing by Ipswich Town chief executive Simon Clegg.
District Judge Celia Dawson told Chopra: "Quite simply, someone with that many points on their licence really should have been more careful."
Richard Kelly, mitigating for Chopra, apologised to the court on the footballer's behalf.
"He had come back from an away game in London," said Mr Kelly.
"It was in the early hours of the morning, roads were quiet, he was on his way home. He thought, obviously wrongly, that he had gone through just as the lights were changing.
"Clearly, he accepts that he must have gone through when it was red."
The court heard Chopra, of Devereaux Court, Ipswich, was seen by police in an unmarked car as he drove his Audi A5 through the red light.
Mr Kelly said: "He did say to them (police) that he was tired because he had been away playing a football match."
'Inconvenient' ban
In December, Chopra was fined £1,000 after admitting driving his car along the A12 in Essex at 106mph (170.6 km/h). He was also banned from driving for 56 days by magistrates in Chelmsford.
Mr Kelly told the court the latest ban would be "inconvenient" to Chopra.
"He is clearly in a position to pay whatever fine and costs you want to impose," Mr Kelly told the court.
"The disqualification is going to make it very inconvenient for him. He has family in Newcastle and he has a young child in Newcastle."
Chopra revealed in November that he had lost £2m through gambling and had debts to repay.
Mr Kelly told the court: "Whilst on the face of it he is somebody earning a good wage... that doesn't really tell the full picture."