Suffolk Police Authority aims to reduce sick leave levels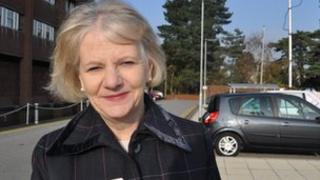 The Suffolk Police Authority says levels of sick leave at the force are above the national average and need to be reduced.
The authority said 4.8% of working hours were lost in February and the national average is 3.4%.
Joanna Spicer, who is chair of the authority, said: "This was a big worry a year ago when they were over 5%.
"Levels of sickness have come down quite significantly, but not to the level where we want to be."
The Suffolk force said it was facing 20% cuts to its annual budget of £130m and was going to have to lose 300 uniformed and non-uniformed posts.
Ms Spicer said "low morale is a contributory factor" to sick leave.
'Robust measures'
"We became aware that our sickness levels were higher than many other similar forces and seemed stuck, so we've had a sickness management plan," she said.
"My personal ambition would be to get it below 4% before the end of the year when the authority is abolished.
"We've got to make sure that managers understand their responsibilities, monitor each individual's behaviour and make sure they understand the significance of staff absence."
Matt Gould, chair of the Police Federation in Suffolk, which represents rank-and-file officers, said: "We're not entirely sure all forces measure their sickness in the same way and we can assure you that Suffolk officers are not in any way more likely to take sick leave than in a neighbouring county.
"The measures that are being put in place to manage sickness in Suffolk are as robust as they possibly could be."
A spokesperson for Suffolk Police said: "To date the action plan appears to be working, with overall sickness trends showing levels are decreasing for both police officers and staff.
"As detailed in the Police Authority paper, numbers of long-term sickness cases have reduced from 53 in September to 28 in March this year."