Concern over Felixstowe sea defence work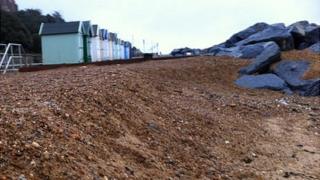 Beach hut owners in Felixstowe are concerned that sea defence work is not preventing erosion.
A £10m Suffolk Coastal District Council project to build 18 rock groynes and deposit extra sand between Harvest House and the Town Hall is under way.
But hut owners say conditions have left a 3ft (0.9m) drop between the huts on the shingle and the sandy beach.
The council said it expected the beach to level out in the summer when tides and winds were more favourable.
Trevor Mason, who has a hut near the Spa Pavilion, said: "We're staggered because the work to improve the beach was supposed to stop erosion and we find a 3ft drop from the shingle strip, where the beach huts are, down to the sandy beach.
"It looks as if the plan to stop the erosion isn't working and it appears to have exposed a load of builders rubble and rocks.
'Almost certain'
"If they can find a way to level it off, they've got to because that's what they promised they would do."
Andy Smith, Suffolk Coastal's councillor with responsibility for coastal management, said: "I don't think anything serious has gone wrong - when you've re-graded a beach, we have to let the sea find its own level over a period.
"In the one or two bays where there has been this 'cliffing', we're certainly going to keep a very close eye on things.
"A few days with different winds and tides will bring a lot of it back, I'm almost certain."
Rupert Teasdale, from the sea defence contractors Mott MacDonald, said: "We ripped out the old concrete groynes and some were broken up, so there is a scattering of concrete which we were expecting to be buried.
"But it has been exposed and we will be going back to do some additional clearing."
The sea defence project is due to be completed in July.