Dingus Khan, Benjamin Bloom and The Soft to play Latitude Festival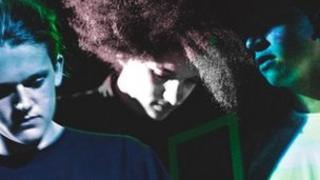 Dingus Khan, The Soft and Benjamin Bloom are to play the Lake Stage at this year's Latitude Festival.
For a third year in a row, curator of the Lake Stage and BBC Radio One DJ Huw Stephens asked BBC Introducing in Suffolk to nominate local acts.
"The artists they support and help nurture will get to play to a large audience at one of the finest festivals I've ever been to," said Huw.
The bands will perform at Henham Park, near Southwold, on 13-15 July.
Eight-piece band Dingus Khan released their debut single Knifey Spoony earlier in the year and recently recorded a Maida Vale session for BBC 6Music.
Singer and guitarist Benjamin Brown said: "I've never been to a festival in my life - it's going to be an eye opener.
"We might have a ridiculous stage show, maybe dancers, the Supremes on backing vocals or a giant maypole erected in the centre of the stage."
'Anthemic songs'
Benjamin Bloom sings and plays piano for the Ipswich-based band who share his name.
He said he was "overwhelmed" to have the chance to play Latitude.
"It's a struggle for us unsigned guys to get out of the toilets, get up a level and get into good venues," he said.
"You trawl around and wait for somebody to give you an opportunity.
"Latitude is going to get a stupid, ridiculous, over the top show with anthemic songs."
The Soft, three 18-year-olds from Bury St Edmunds, have become regulars on the BBC Introducing in Suffolk show since they submitted their music via the BBC Uploader at the end of 2010.
Henry Morris, who sings and plays guitar, said playing Latitude was a "huge thing to do".
"We've got new material and have been redeveloping our old material for bigger settings - lots more bass and drums," he said.
"It's going to be a huge step from just going to Latitude a couple of years ago to playing it."
BBC Introducing in Suffolk is presented by Graeme Mac and Richard Haugh, who selected the acts after receiving the invitation from Huw Stephens.
"It's great to have BBC Introducing in Suffolk helping to curate the Lake Stage again this year," said Huw.
"It's a great chance for Suffolk artists to get their music heard."