Richard Smith resigns as chairman of Sizewell environment fund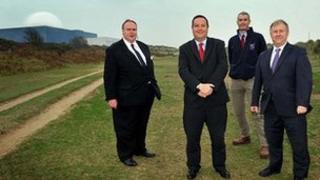 The chairman of a group in charge of allocating funds to environmental projects near Sizewell nuclear power station has quit at its first meeting.
Councillor Richard Smith stood down from the three-man Amenity and Accessibility Fund steering committee after a project he backed was rejected.
The fund of £120,000 is to mitigate the impact of a new onsite dry fuel store at Sizewell B.
Mr Smith wanted £70,000 to be spent on improving access to a recycling centre.
Sizewell B operators EDF set up the fund in January to support projects which benefit the Area of Outstanding Natural Beauty which surrounds the power station.
An extra £20,000 will be available to spend each year.
'Promising applications'
Mr Smith wanted to spend money on improving access to the household waste and recycling centre on Lover's Lane, Leiston.
The site is closed when the skips are emptied, and this can cause queues outside.
But the other members of the committee - Jim Crawford, Sizewell B station director, and Suffolk Coastal District councillor Andrew Nunn - did not back the proposal.
Councillor Guy McGregor, Suffolk County Council's portfolio holder for roads, planning and transport, said he understood Mr Smith's decision to step down.
"What we need to do is ensure the funding is invested in projects that really benefit the local area and increase access to the AONB."
EDF said about 20 groups had applied for funding.
Mr Smith had stood down before the other projects had been discussed, so they will be carried over to the next meeting.
A spokesperson for EDF said: "There are a number of very promising applications that fulfil the selection criteria that comply with national planning laws.
"It is disappointing that the county council representative has resigned during the inaugural meeting."
Mr Smith was unavailable for comment.