Council plan could see 2,000 houses built near BT in Martlesham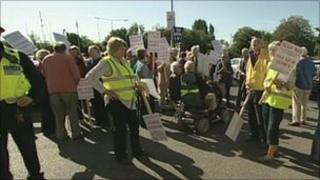 Development plans including up to 2,000 homes near BT's research park in Martlesham have been signed off by Suffolk Coastal District Council.
The core strategy document will now go to the government's planning inspector.
But campaigners deny there is any demand for the homes and claim they will damage the surrounding Area of Outstanding Natural Beauty.
Andy Smith, deputy council leader, said its figure of 2,000 "was the bare minimum you can conceivably get away with if you look at real need".
The core strategy sets out how future development in the district should be controlled for the next 20 years.
The No Adastral New Town (NANT) group has taken exception to the specific reference to BT's Adastral Park, on the outskirts of Ipswich.
BT has outline planning application for 2,000 homes, leisure facilities and business units.
Janet Elliott, chairman of NANT and a resident of nearby Waldringfield, said: "Although it is called a core strategy and is meant to be a strategic document, it has highlighted this very site-specific allocation."
Ms Elliott claimed the council had not considered issues relating directly to Adastral Park, such as the strain of increased traffic flows and the effect on wildlife.
"This development will be within metres of the AONB border," she said.
"On the Deben estuary there are several specially protected sites that have international protection and it is our contention that Suffolk Coastal hasn't fully taken these into account."
She said the council should put BT's application on hold until the Core Strategy had been reviewed by the planning inspector.
The group said it was taking legal action about the issue.