Family offers £5,000 reward after Sudbury hit and run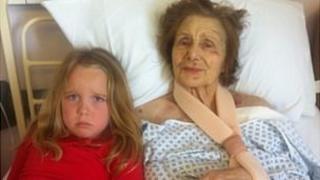 The family of an 84-year-old woman who was hurt in a hit and run incident is offering a £5,000 reward for information leading to a prosecution.
Donna Rumsey had been feeding ducks at Brundon Mill in Sudbury with her granddaughter Olivia when she was hit by a vehicle on 16 April.
She suffered a broken collar bone and is still at West Suffolk Hospital.
Her son John Rumsey said: "We want to find who this driver was - we want to bring this person to justice."
Mr Rumsey's daughter was found on the bridge holding her grandmother's hand shortly after 16:00 BST.
"She's had a week of sleepless nights and is very worried about her nanny in hospital," said Mr Rumsey. "She was very, very frightened."
He said he hoped the reward would encourage someone with the "final snippet of information" about the incident to come forward.
Mr Rumsey said he believed the vehicle was a maroon or red 4x4 or van.