Iceni and Home-Start Babergh join forces to help families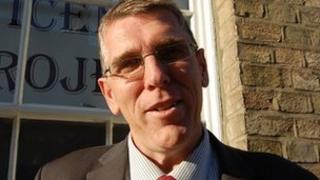 Two Suffolk charities are joining forces in the hope of preventing children from going into care.
Iceni and Home-Start Babergh are working together on a year-long pilot.
Brian Tobin, chief executive of the addiction rehabilitation charity Iceni, said it aimed to identify "at risk" children before it was too late.
"If we intervene early, the chances are the children will have a better life," he said. "Get there too late and the problems are entrenched in the family."
Mr Tobin said Iceni had worked with about 200 families in the past year from its base in Ipswich.
Drug dependent
The project with Home-Start Babergh, he said, would extend this support to people more comfortable receiving help at home.
"They get overwhelmed but are often unable to ask for help - maybe because of the fear that their children may be removed," he said.
Home-Start Babergh said it provided "confidential and non-judgmental support to families".
Chairman Lance Spraggons said: "This project will benefit Home-Start Babergh volunteers, who will be able to strengthen their knowledge of individuals who suffer with drug and addiction dependencies.
"This will also enhance support for families within the Babergh district who may also be experiencing such problems but who have not acknowledged that their lives could be improved through the services Iceni could offer."
Ipswich Borough Council has given £10,000 to the project.