Ipswich Hospital chief leaves to take up new NHS post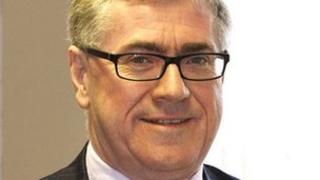 The chief executive of a Suffolk hospital criticised last year over treatment of patients is leaving to take up another post in the NHS.
Ipswich Hospital chief executive Andrew Reed is the fourth senior manager to quit since a Care Quality Commission (CQC) report last May.
It said standards of patient nourishment were not good enough and staff failed to respect dignity.
A later inspection said there had been major improvements.
Mr Reed said it was time for a new chief executive to oversee development.
He is to become director of acute service programmes for the Midland and East NHS strategic health authority (SHA) and will leave his current post this month.
'Experience and personality'
"Ipswich is a great hospital, but this is an opportune time for a new chief executive to pick up the reins and see the hospital through its next stage of development.
"I would like to thank the many friends and colleagues, both in the hospital and beyond, who have supported me in my time here."
Sir Neil McKay, chief executive of NHS Midlands and East, said: "I am delighted that Andrew has agreed to take up this vital role managing programmes of major service change across the SHA area.
"His achievements at Ipswich Hospital, along with his skills, experience and personality, make him the ideal candidate to take on such a challenging position."
Mr Reed had been chief executive for seven years.
In the past year the hospital chairman has stood down, the director of business development was made redundant in a wave of job cuts and the head of nursing moved voluntarily to another job in Essex.