Ipswich May Day Festival cancelled due to heavy rain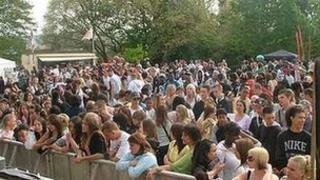 An annual music festival in Suffolk has been cancelled due to bad weather.
The Ipswich May Day Festival was due to take place at Alexandra Park on Sunday but has been called off as heavy rain left the ground waterlogged.
Theresa Mackay, from organisers Ipswich and District Trades Union Council, said it was the second time the event had been cancelled since it began in 1978.
"We're bound to lose some money but it would have been greater if it had gone ahead," she said.
Ms Mackay said the festival cost about £10,000 to run and that deposits for companies involved with its running had already been paid.
"All those heavy vehicles and the people would have damaged the park and we would have been left with a big bill from the council," she said.
Organisers have been quick to find an alternative home for the acts who were due to play the acoustic stage.
They will now perform at the Spread Eagle pub in Ipswich during the daytime.