Harvest at Jimmy's festival cancelled for 2012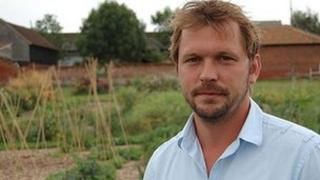 Jimmy Doherty has cancelled an annual food and music festival which takes place on his farm at Wherstead near Ipswich.
Harvest at Jimmy's began in 2009 and was organised by Big Wheel Promotions, which ceased trading last year.
Mr Doherty had planned to run the festival himself but decided there were too many other big events, such as the Olympics and the Queen's Jubilee.
He said the festival would return to the farm next year.
"We've got to prioritise this year and make the right decisions for our customers and the farm," he said.
A spokesperson for Jimmy's Farm said the contract with Big Wheel Promotions to organise the festival ended last year.
But early bird tickets had already been sold for a 2012 festival.
Gerald Krasner, from administrators Begbies Traynor, which is working on behalf of Big Wheel Promotions, said about six people had received a refund.
"Where people have claimed we refunded the money," he said.