Suffolk punch foal born at Easton Farm Park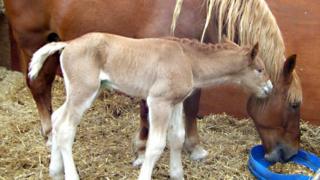 The birth of a Suffolk punch colt at a farm near Wickham Market is seen as "important" for the future of the breed as their numbers remain critical.
Easton William, known as Billy, was born at Easton Farm Park.
Owner Fiona Siddall said: "It was a tricky birth as he was upside down but we're really pleased with him now."
Figures from the Rare Breeds Survival Trust 2012 watchlist report there are less than 300 Suffolk punch breeding adult females in the UK.
Ms Siddall said: "Billy's mother was in labour for most of the night and when the vet arrived we realised it was going to be tricky. Billy was upside down and his head was the wrong way up.
"Trying to turn a 12 stone foal is never going to be easy but then mum laid down and managed to get him the right way up so the vet was able to assist the birth.
"He's a week old, very lively and inquisitive. Really strong, so we're extremely pleased with him."
'Cause for celebration'
The Suffolk punch is the oldest breed of heavy horse in Britain and dates back to the 16th Century.
Popular as a working breed, their numbers started to decline as mechanisation arrived on farms.
Ms Siddall, from the farm in Easton, added: "They were once a familiar site in the countryside but with the arrival of the tractor, so came their slaughter.
"They are hard to breed, expensive to keep and the economic climate is hitting the Suffolk Punch market so people are breeding less."
She said the number of foals born had dropped sharply, with only about 35 last year.
"It's crucial to get colt foals to help the line continue, but everyone that is born healthy is important to the survival of the breed and a cause for celebration," she said.
"They are an important part of Suffolk heritage, the represent a wonderful way of life and it's important we preserve them."