Bardwell windmill back in operation after 25 years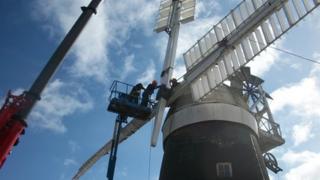 A Suffolk windmill severely damaged by the great storm of 1987 is back in operation.
The sails of Bardwell windmill were destroyed by the heavy winds which claimed 18 lives across the country.
Jonathan Wheeler, who led the project and whose mother lives at the mill, said it took six years to rebuild the sails and overhaul the machinery.
"The task was enormous," he said. "But seeing the windmill working again was very emotional."
Mr Wheeler's parents bought the then fully-working mill shortly before the great storm.
His father Geoff died in 1995, leaving the mill looking "very sad and derelict".
'Get on with it'
Mr Wheeler decided to rebuild the sails when he found detailed drawings and notes in his father's office.
"It was if he were saying 'for goodness sake son, what is stopping you, now get on with it'," he said.
Mr Wheeler has been helped by a group of local people who formed the Friends of Bardwell Windmill in 1997, along with grants from English Heritage, councils and conservation groups.
The first pair of the new sails were added to the windmill in 2010, with the final two sails added last month.
"The sails are a significant thing visually but there is still a lot of work to be done," said Mr Wheeler. "It's an endless project."
New windows and doors will be added and other maintenance will be carried out while the windmill returns to full service.
"It's got to pay for its future," said Mr Wheeler. "We'll be selling flour and equipment for home baking."