Suffolk sailing barge at Queen's Jubilee Thames pageant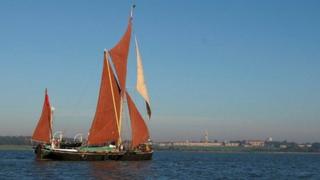 School children from Suffolk are set to crew a sailing barge which will be representing the county at the Queen's Jubilee pageant on the Thames.
A flotilla of boats will sail down the river on Sunday 3 June.
The SB Victor from Ipswich will take part in the spectacle with a crew made up of a dozen pupils from the Royal Hospital School, Holbrook.
Steve Godwin, the boat's manager, said: "We'll be carrying the flag of Suffolk with pride."
The SB Victor, which is 82ft (25m) long and has four sails, was built in Ipswich docks in 1895 for the linseed trade along the east coast ports.
It also worked out of Chatham, in Kent, moving munitions in World War II.
It returned to Suffolk in 2005 for refit and now operates as a charter vessel.
'Treacherous' route
Victor will leave Ipswich for the pageant on Wednesday 30 May.
Mr Godwin said: "The chaps who do it routinely will make it look easy, but the east coast is a pretty treacherous place if you don't know what you're doing.
"The skipper is not backwards in coming forwards and will make his views known, but as long as everybody understands the rules of the game then we'll have a great time."
Victor will be moored near HMS Belfast on the Thames as part of a static avenue of boats which the Queen will sail along.
"We'll probably be doing a salute in our naval uniform and lots of smiling, waving and cheering," said Alex Slatter, a Royal Hospital School pupil.
Rebecca Taylor, another pupil, said: "I've spent up to three weeks before on a boat, so I think I can do this, but, depending on the weather, it could get very tough at times.
"It's going to be amazing just to see the Queen."
'Fantastic showcase'
Alex Alderton, another member of the school's sailing squad, said: "I should imagine the day itself will be a mass of red and white sails and more boats than you can see.
"It's a fantastic showcase of the country and how great we are."
The Royal Hospital School was founded in Greenwich in 1712 as a charity school for the offspring of those injured in naval warfare and is currently celebrating its 300th anniversary.
It moved to Holbrook in 1933 and the Queen's father, George VI, laid the foundation stone at the new site in 1928.
Rob Mann, the school's tercentenary co-ordinator, said: "With the Queen's Diamond Jubilee coinciding with our tercentenary, it was just an excellent opportunity to celebrate together.
"It's a fantastic opportunity to work together as a team out on the open water learning techniques from old sea dogs."