Row over plans to restore rail line in Suffolk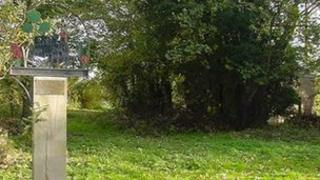 The restoration of a former railway line would "destroy" a Suffolk village, residents say.
The Southwold Railway Trust is planning to rebuild Wenhaston station and half a mile of track from a line which stopped running in 1929.
But Sarah Montague, who has lived in Wenhaston for almost 16 years, said the work would be "very disruptive".
"It's big boys and their toys who are trying to invade our peace and quiet," she said.
Ms Montague said about 14 residents had written to Suffolk Coastal District Council to oppose the planning application.
'Peace and tranquillity'
Southwold Railway Trust said it hoped to attract up to 30,000 visitors to the new station, railway line and visitor centre each year.
"It's going to totally disrupt our village of only 900 residents," said Ms Montague. "The reason we moved here was the peace and tranquillity - we don't want it to be turned into a theme park.
"The half mile track runs right to the end of my garden, which is obviously going to destroy the lovely wildlife we have here and the grazing.
"It's an Area of Outstanding Natural Beauty and this will be devastating to the village."
Southwold Railway Trust said it was happy to listen to the concerns of local residents.
A spokesperson for Suffolk Coastal District Council said 20 June was the earliest the application would be looked at by the planning committee.
"People have all this month to give their views and see them included in the written report to councillors, or they can give their views later than that and they will reported orally to the committee," the spokesperson said.