St Edmundsbury Cathedral choirboy inquest verdict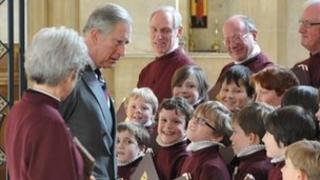 A Suffolk choirboy found with a belt round his neck may have been trying to improve his breathing skills to aid his singing, an inquest heard.
Edward Morgan-Gooch, 12, died in November from compression to his neck after he was found seated next to his bed at the family home in Wickhambrook.
The inquest, in Bury St Edmunds, heard there was no suggestion he had intended to harm himself.
A verdict of accidental death was recorded.
The St Edmundsbury Cathedral choirboy was found by his mother after he had gone to bed on the evening of 2 November 2011.
Paramedics and the police were called and he was taken to the West Suffolk Hospital but could not be resuscitated.
No intent to harm
Greater Suffolk Coroner Dr Peter Dean carried out a documentary inquest and read out witness statements.
Dr Dean told the court that it would be "wrong to describe this as a hanging as he was seated on the floor" and "looking at all the evidence, there is no suggestion that he had any unhappiness or intent to harm himself".
The inquest heard that no note had been left in the bedroom and that Edward was happy at St James Middle School, Bury St Edmunds, and was a committed chorister who had been looking forward to future performances.
Dr Dean told the court the youngster may have had concerns about his voice breaking and hitting the high notes in performances.
A report from Dr Peter Powell, a consultant paediatrician, suggested the belt around the neck might have been "an experimental or explorative act ... seeking to improve breath-holding skills".
In recording the accidental death verdict, Dr Dean expressed his condolences and emphasised the "extreme dangers of experimentation with pressures on the neck".