Image issued of Ipswich's Luke Durbin missing since 2006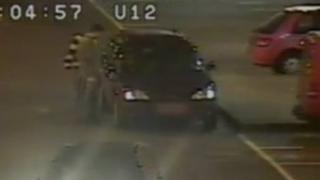 A CCTV image has been released by police of teenager Luke Durbin on the night of his disappearance in Ipswich six years ago.
The then 19-year-old, from Hollesley, was last seen in the early hours of 12 May, 2006, following a night out.
In the image, Luke is seen with a friend approaching a taxi on Cardinal Park, just after midnight.
The police said they had reviewed previously-seized footage and hope it will provide fresh information.
"It's obviously painstaking work to look through CCTV and [the new image] is as a result of us reviewing it and the technology has got a lot better," Det Ch Insp John Brocklebank said.
"Each time we have issued renewed appeals, we have received new intelligence and every piece of information, however small or insignificant it may seem, has and will be followed up in order to piece together what has happened to him."
Det Ch Insp Brocklebank said someone local "knows what has happened to Luke".
"I wouldn't want to have withholding vital information on my conscience, knowing it could help solve this investigation," he said.
The police said they had spoken to more than 100 people during the inquiry.
Mr Durbin was last seen in CCTV images from Dog's Head Street at 04:00 BST, on the day he went missing.
His mother, Nicki Durbin, reported him missing the following day.