Flatford Mill installs water turbine in Constable Country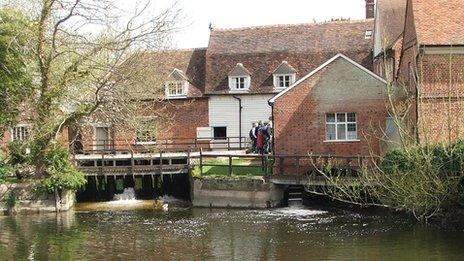 A water turbine for generating electricity has been installed at John Constable's family mill in Suffolk.
Flatford Mill's water wheel was removed 100 years ago and an Archimedean screw turbine is now in its place.
It will help power the building which is a Field Studies Council centre.
Edward Jackson, head of centre, said: "We're harnessing the energy of the River Stour once again, but we're turning it into electricity rather than mechanical power." undefined
The two-year project has cost £170,000 and the turbine can generate up to 11 kilowatts of electricity, which the centre said could mean 100 kilowatt hours when the river was in full flow.
Mr Jackson said: "The screw will never produce all the electricity that all our 10 buildings demand, but we calculate that we will cover about 30% of our electricity needs throughout the year."
Milling corn ended at the building a century ago and its machinery, including the water wheel, was removed.
Flatford Mill was painted by the artist John Constable and it is nextdoor to Willy Lott's House which was depicted by the artist in The Haywain.
"The Constable family were all innovators and entrepreneurs and I'm sure they would have approved of the Archimedean screw technology as a working example of finding appropriate solutions for modern challenges," said Mr Jackson.
The centre said when the centre's demand for power was lower during the night, excess electricity would be fed to the national grid.
Related Internet Links
The BBC is not responsible for the content of external sites.