Red Rose Chain gets £1m to build new Ipswich theatre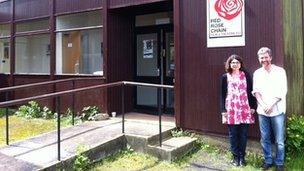 A Suffolk arts group has been awarded £968,300 to build a new theatre in Ipswich.
Red Rose Chain had to abandon plans to open a theatre within a larger building on the waterfront after the developer went into administration in 2009.
The group has been given the money from the Heritage Lottery Fund to develop its Gippeswyk Hall site.
Joanna Carrick, Red Rose's artistic director, said: "It's a great boost for us moving forward with the company."
The new 120-seat venue already has planning permission and is due to be completed by the end of 2013.
It will replace a 1960s annexe to the rear of the Tudor hall on Gippeswyk Avenue.
Ms Carrick said: "It's not particularly nice at the moment and the facilities we will have will be inspirational.
"We specialise with working with all sorts of members of the community, including people recovering from drug addiction, so it's wonderful facility for them to come and use for creative projects."
Red Rose had been planning to create a theatre called The Witchbottle within the Regatta Quay development on Ipswich waterfront.
However, the Regatta Quay project ground to a halt in 2009, after City Living Developments (Ipswich) Ltd, went into administration, leaving an unfinished tower block.
David Newborn, Red Rose's producer, said: "The Witchbottle is tied up with all the development which has come to a standstill, so when that happened we knew we needed a space quickly to enable the company to grow.
"When the economy does eventually pick up and the work begins down there, we could add the Witchbottle into the equation at that point and there may be opportunities to use the Witchbottle site in other ways."
Related Internet Links
The BBC is not responsible for the content of external sites.