Great British Story comes to Ickworth House, Suffolk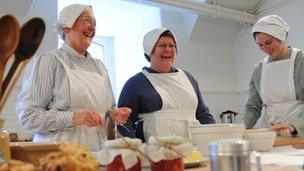 A Suffolk stately home will host one of the BBC's large-scale Great British Story events.
It will take place at Ickworth House near Bury St Edmunds on Sunday, 20 May and ties-in with the BBC2 series.
The programme aims to look at the history of Britain through the eyes of ordinary people.
Television presenter Michael Wood and Cambridge University archaeologist Carenza Lewis will be on the panel of experts.
Liz Thomas, events co-ordinator at Ickworth, said they were really pleased the BBC had chosen the venue.
"This year we're focusing very much on ordinary people with [the] Ickworth Lives [project] which looks at the role and life of domestic servants," she said.
"There's the pomp and circumstance of the Hervey family who built the estate - supported by the maids, cooks, gardeners and work hands who are the people we can relate to today.
"We're anticipating in the region of 3,000-4,000 people at the Great British Story event, which is a significant number as on a nice weekend day we would usually get up to 1,500 visitors."
The free event at Ickworth runs 10:00-17:00 BST and will have experts on hand to look at family history, surnames and historic items which visitors can bring along, as well as having the usual access to the house and its grounds.
The experts will be joined by The One Show's Joe Crowley and BBC Look East's Stewart White.
The Great British Story television series, which is due to start on Friday, 25 May on BBC2 at 21:00 BST, features a archaeological dig in Long Melford, near Sudbury, and research into the history of Dagworth Hall, near Stowmarket.
Lesley Dolphin presents a BBC Radio Suffolk show live from Ickworth 12:00-14:00 BST on Sunday, 20 May.
Related Internet Links
The BBC is not responsible for the content of external sites.